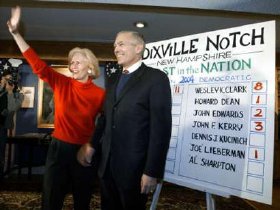 Wesley Clark won the meaningless yet nerdily entertaining early New Hampshire contests in Dixville Notch and Hart's Location tonight. Please see below for my simul-blogged coverage.
For coverage of the primary during the day Tuesday, I recommend the following links:
The Command Post: If there's any significant election-related news to report, it will be reported here, and relatively quickly. The Command Post rocks.
The Drudge Report: Drudge is generally the best source for early exit-poll rumors and such. Partly because he has good sources, and partly because he has no scruples. :)
Talking Points Memo: Josh Marshall has been providing excellent on-the-ground coverage from New Hampshire. He dropped the ball today, but hopefully he'll be back on his game tomorrow.
Instapundit: If bloggers are saying interesting things, Glenn will probably have a link to them.
If anybody has any additional links to suggest, feel free to leave them in comments.
I'll be at work tomorrow, of course, but I will try to provide a lunch-break update as usual, and then of course I'll be blogging on primary results in the evening.