At 5:00 PM, Fabian was upgraded to Category 3 — making it the first major hurricane of the season — and it's rapidly developing the classic look of a monster Cape Verde hurricane.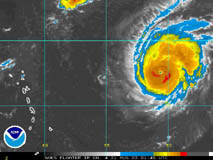 As long as they stay out to sea — which Fabian seems likely to do — storms like this are really quite beautiful. I look forward to seeing what it looks like in the visible satellite images once the sun rises tomorrow.
I also look forward to seeing the 11:00 PM National Hurricane Center advisory, in about half an hour, to see how much stronger Fabian has become. As of 5:00, its sustained winds were estimated at 115 miles per hour, and they were forecasted to increase to 125 mph within 24 hours.
The NHC predicts Fabian will then stay put at 125 mph for the next several days. That may not reflect any particular meteorological principle, however, but rather a political one: the Hurricane Center is generally very cautious about forecasting major increases in strength by any open-ocean hurricane, especially when they haven't sent an aircraft out to investigate yet. For whatever reason, they seem to prefer underestimating to overestimating in situations like these.
So, the forecast notwithstanding, I wouldn't be at all surprised if Fabian reaches 140 or more mph before it's finished. As the last advisory said, "There are no apparent reasons for Fabian not to gain additional strength since the ocean is warm." In other words, look out.
UPDATE: The 11:00 PM advisory is out, and Fabian has already reached its predicted 24-hour strength of 125 mph. Now the forecast calls for it to reach 140 mph within 24 hours — and then, again, predictably, the forecast calls for the strengthening to stop. Any particular reason? Again, probably not a meteorological one. But anyway, we shall see.
I bet it's at 140 mph within 12 hours, by 11:00 AM tomorrow.
ANOTHER UPDATE: I should probably place a caviat on my above statement that Fabian "seems likely" to stay out to sea. The official forecast does not go nearly far enough into the future to actually predict whether Fabian will impact the East Coast. I'm just saying it probably will stay out to sea because I personally have observed that storms rarely impact the East Coast when they go as far north of Puerto Rico and the islands as Fabian is forecasted to do. However, every storm is different and, if no major trough of low pressure develops to push Fabian north-northwest and then north and then northeast, it could eventually threaten anywhere from the Carolinas to New England. Bermuda is also potentially in harm's way. So stay tuned. We're talking like a week down the road, so there's plenty of time to watch it.