What can I say? It was an incredible trip. Hawaii is not only my newest state, it's also definitely one of my favorite states, if not the favorite.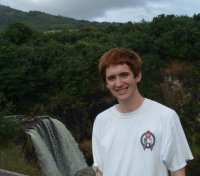 I stand in front of Kauai's famous Wailua Falls. Photo by Becky.

In the realm of nerdy Brendan milestones, this vacation established several:
47th U.S. state visited in life: Hawaii
Southernmost point visited in life*: Waikiki Beach, Oahu
Westernmost point visited in life: 160° 06′ W longitude, on a boat offshore of Ni'ihau
*does not include airplane flyovers
(If you're wondering, my northernmost lifetime point is somewhere in the Scottish Highlands, and my easternmost lifetime point is somewhere in or near Hamburg, Germany. All four of my ordinal-direction records were set with Becky.)
I also went snorkeling for the first time ever, saw dolphins at closer range than I ever had before, and saw nude sunbathers on a beach for the first time. Twice. :)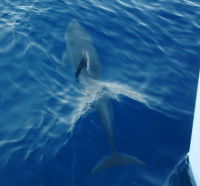 A spinner dolphin swims right next to our boat. Here's a pic of several dolphins. Sorry, no pictures of nude sunbathers. :)

Well, I'll say more about Hawaii once I get more pictures online. Right now, I'm still putting together the pieces of my broken hard drive, but the pictures have been rescued, and I will try to put more of them online by Thursday. For the moment, suffice it to say, Hawaii is awesome.
Hauoli Makahiki Hou! (Happy New Year!)