By Brendan Loy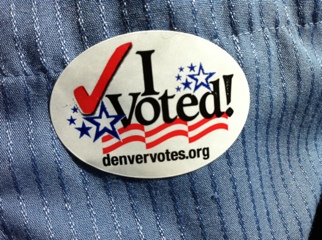 Mail-in election? Ha! I spent two hours last night researching the candidates, then dropped off my ballot today — Election Day — at the nearest Voter Service Center.
I refuse to go along with this newfangled mail-in, multi-day election nonsense. Elections are held on ONE day, always a Tuesday, as God intended when He invented democracy. Why, in my day, sonny, we walked to the polling place, uphill both ways, and used lever voting machines! Now get off my lawn! ;)
Comments on "Election Day in Denver"
9 Responses to "Election Day in Denver"
---
You must be logged in to comment. (Why?)

Please register with The Living Room Times, or log in using your Facebook, Google, OpenID, Twitter, AOL or Yahoo account, or your existing Living Room Times account.