By Brendan Loy
This won't really mean much of anything to regular blog readers, but over on Twitter, the quirky little community of mid-major obsessives orbiting The Mid-Majority is having a blast trying to "find" Kyle Whelliston, "Where In The World Is Carmen Sandiego"-style, based on hints he's dropped while hiding from "The Knowledge" (of who won the Super Bowl) during his annual "Last Man" game.
It was a fun idea, but things really took off a couple of hours ago when Kyle, who is on a total information blackout except for occasional phone conversations with an unnamed, trusted "Conduit" to the outside world, posted this update:
Tuesday 8:30 pm [1 day, 23 hours]

"They're looking for you," the Conduit told me. "They're cross-referencing game schedules and Monday flights out of Philadelphia. They're even trying to find news stories about semi trucks stopping traffic. There's a hashtag on Twitter now: #FindTheLastMan. Watch out, Kyle."

Maybe it's time to pick up and move. Keep running. Run. Run.
LOL.
Anyway, since Kyle can't read any of what's being said right now, and since Twitter is so ephemeral, I thought I'd preserve this for posterity, so he can read everything when he learns The Knowledge and returns to the Information Age. So, below is a CoverItLive window, updating automatically with all new tweets tagged #LastMan or #FindTheLastMan or #SilenceTheConduit — I'll add other relevant hashtags if and when they emerge — as well as all tweets by, or at, or referencing Kyle himself.
The CoverItLive window only goes back to 8:13 PM Mountain Time tonight. But then, below that is a very long series of vertical PNG files showing all tweets with those hashtags and references, all the way back to Super Bowl pregame on Sunday. (Earlier version, showing #FindTheLastMan tweets only, here.) Enjoy!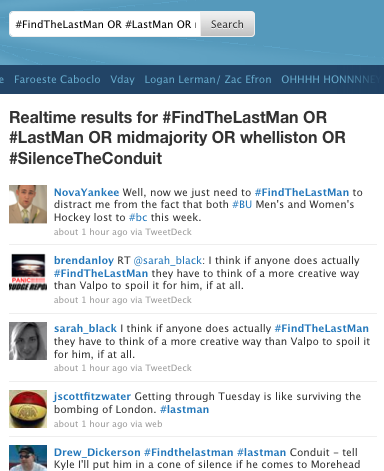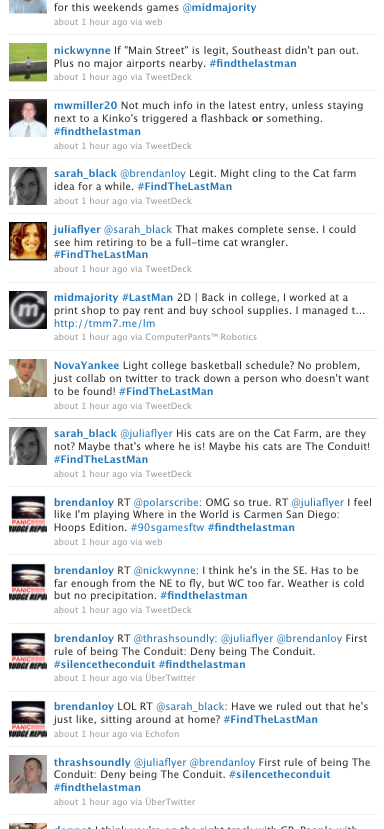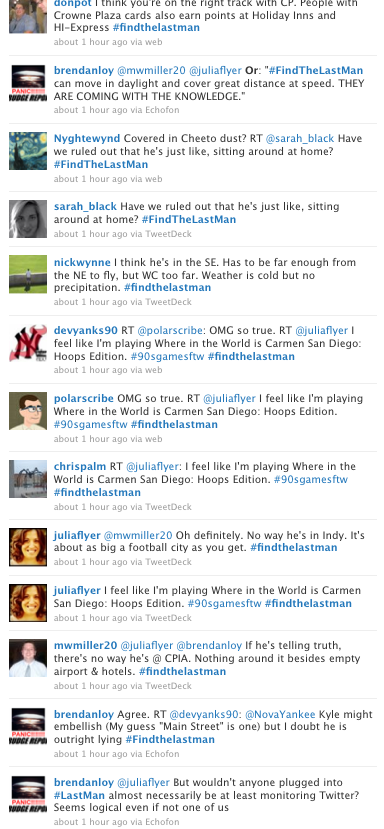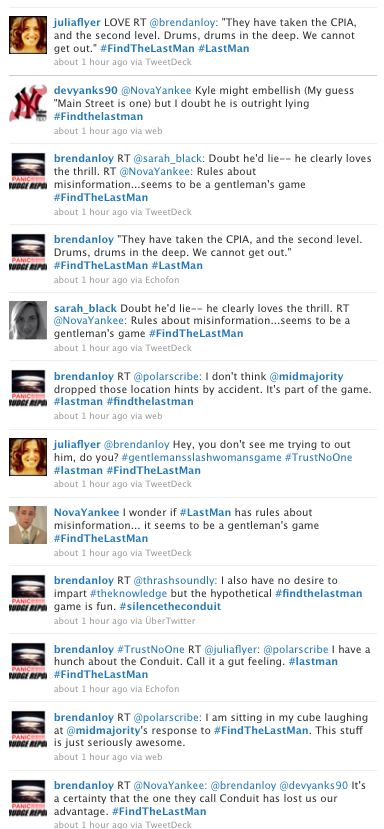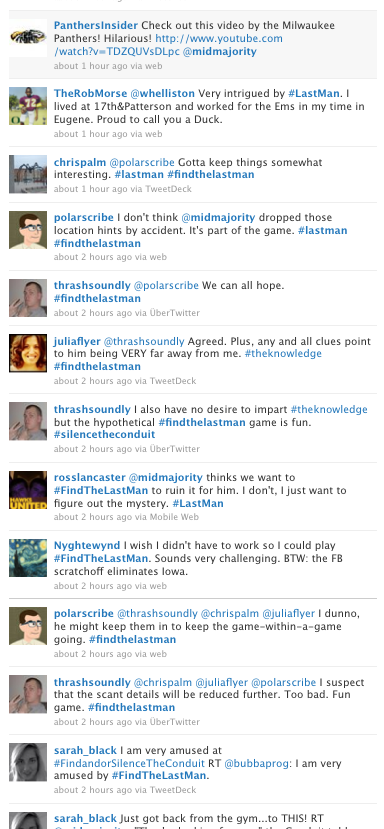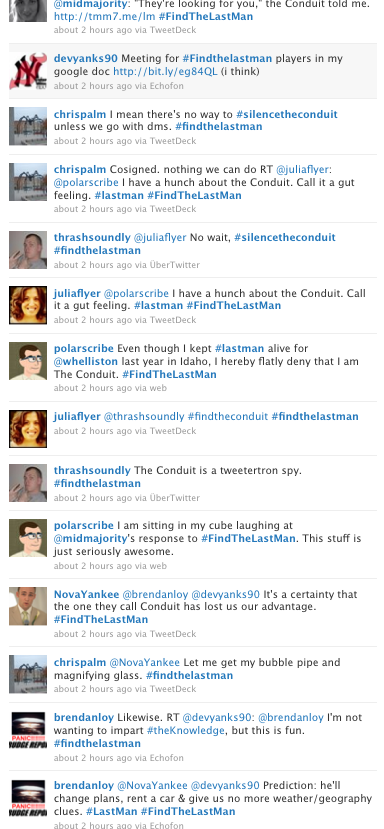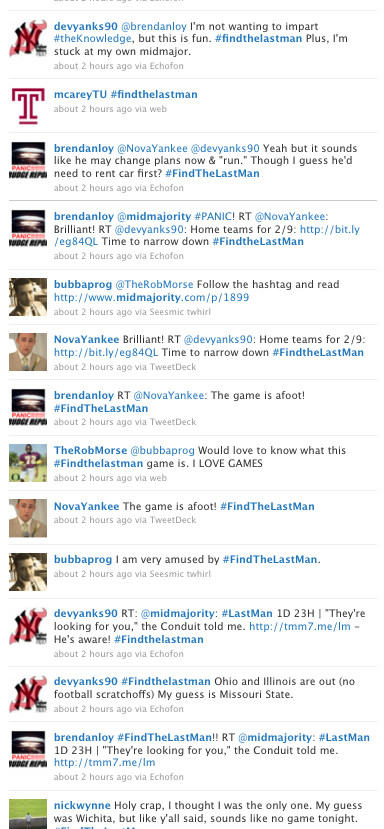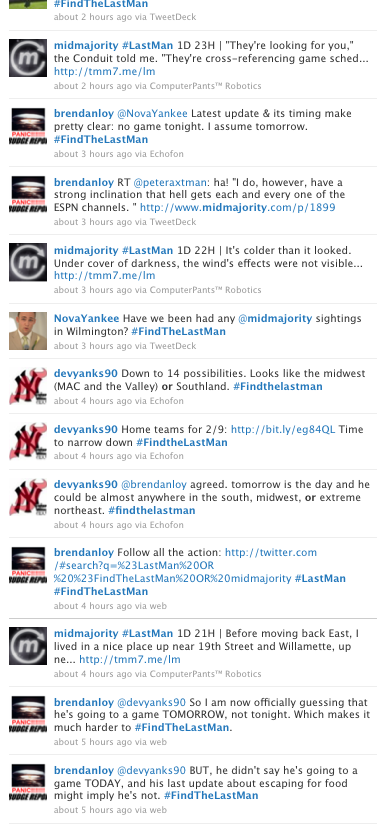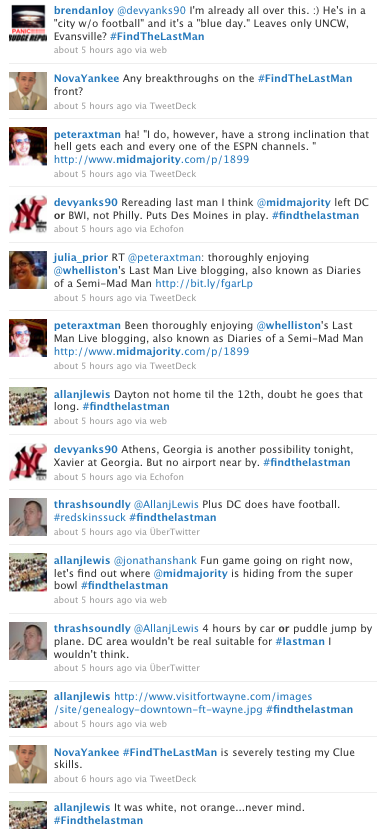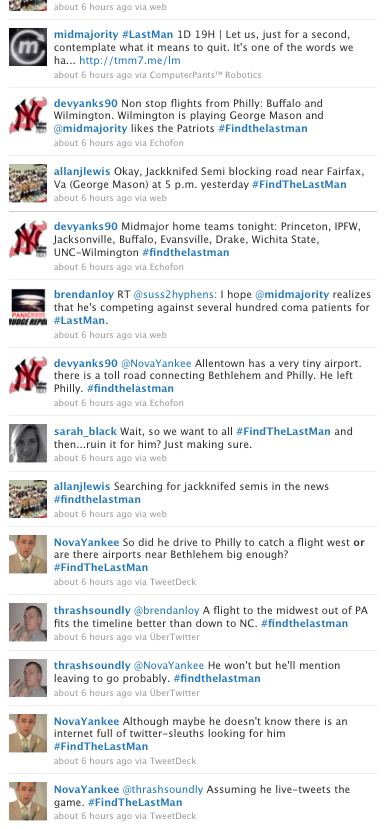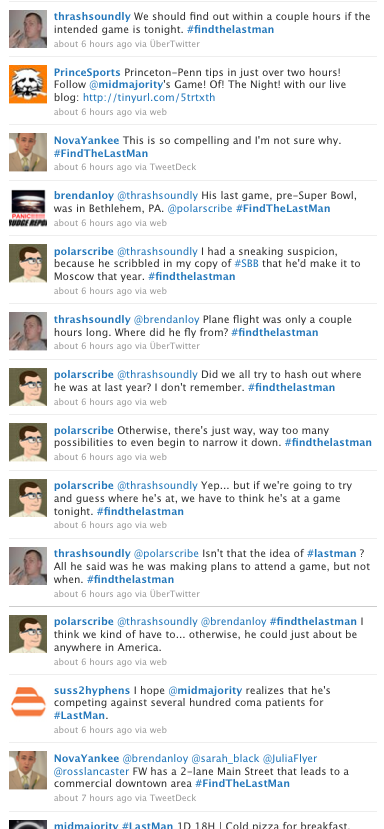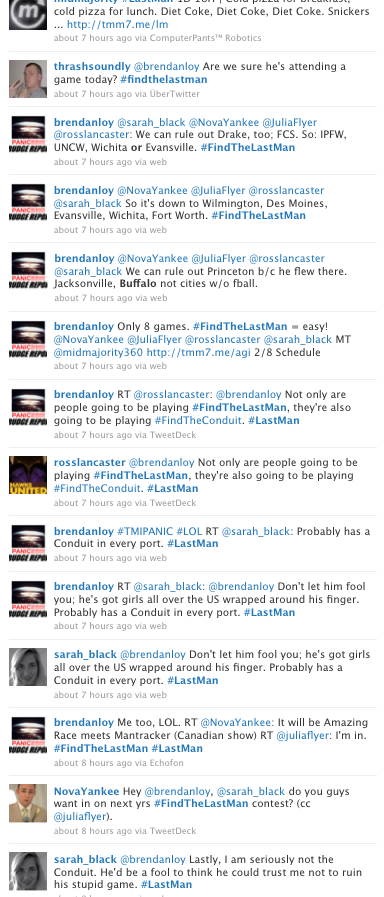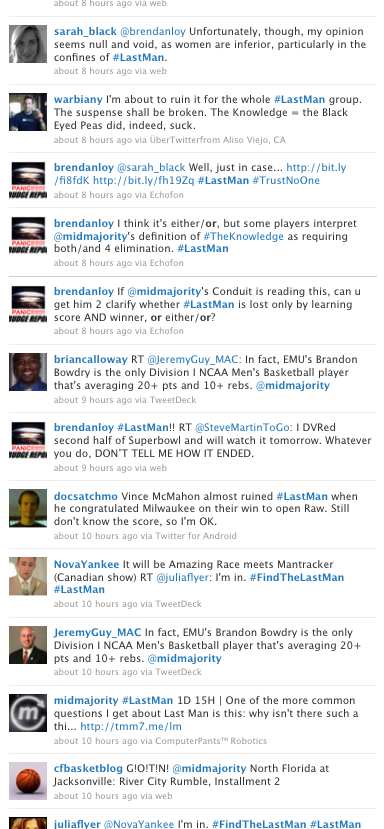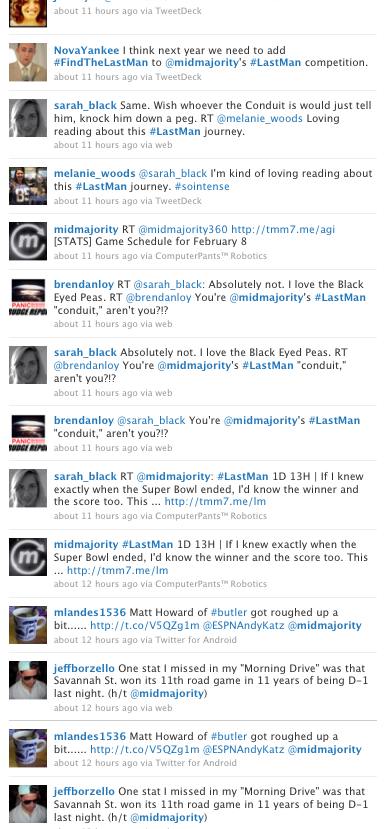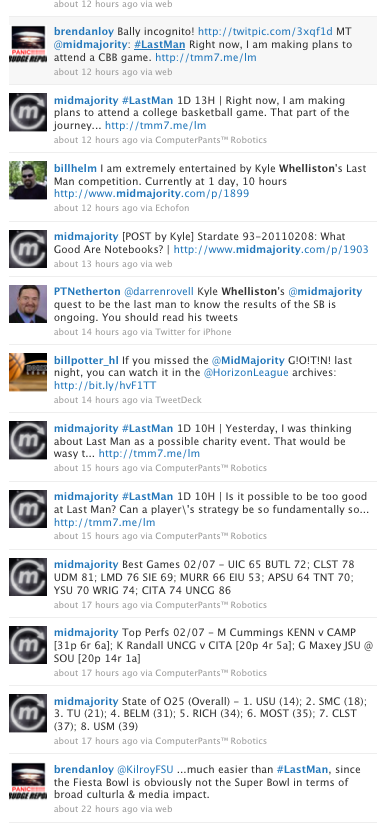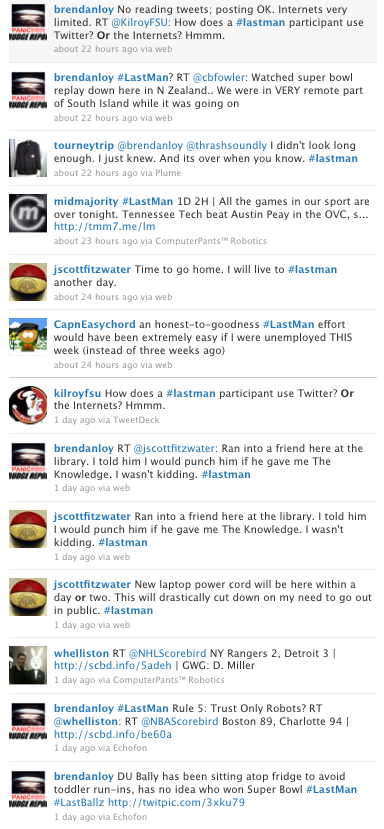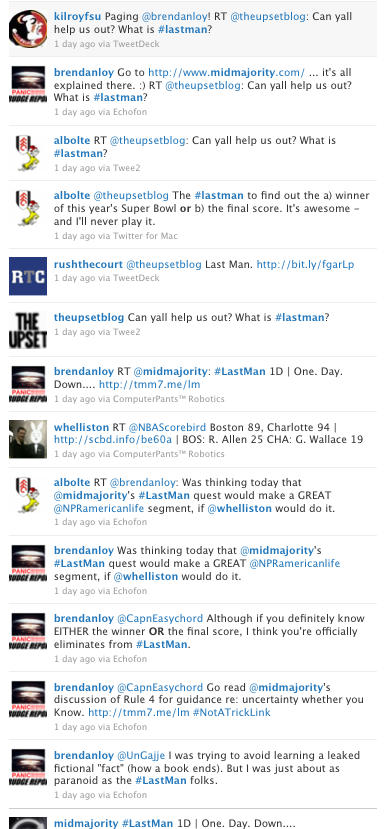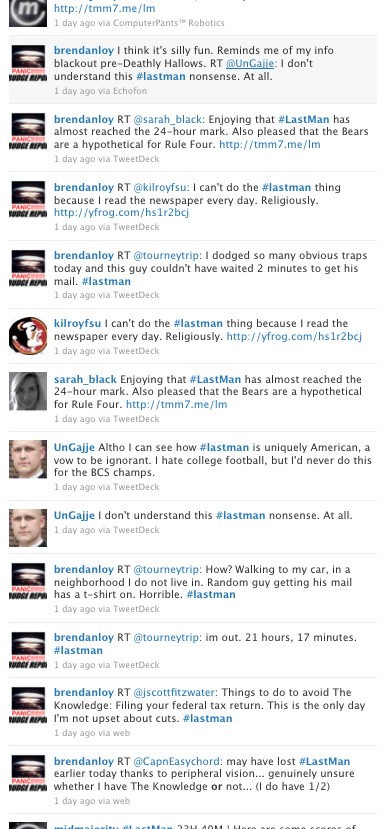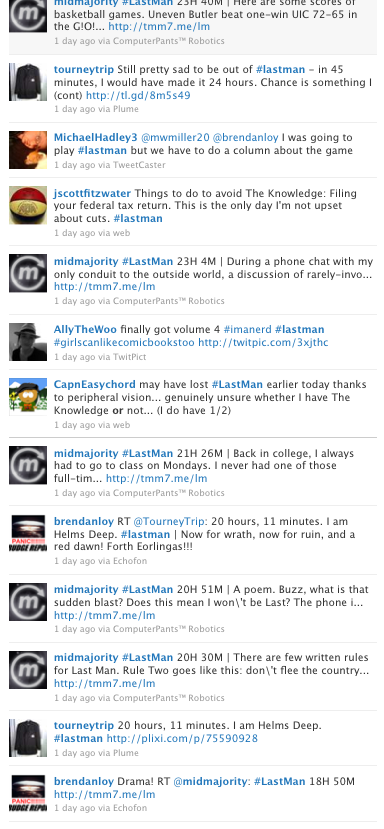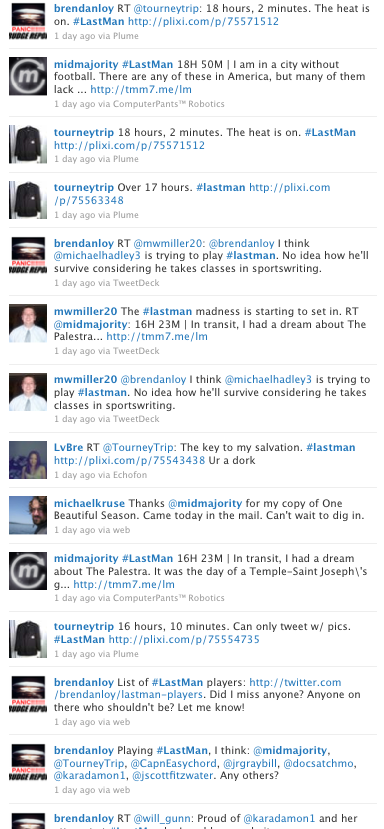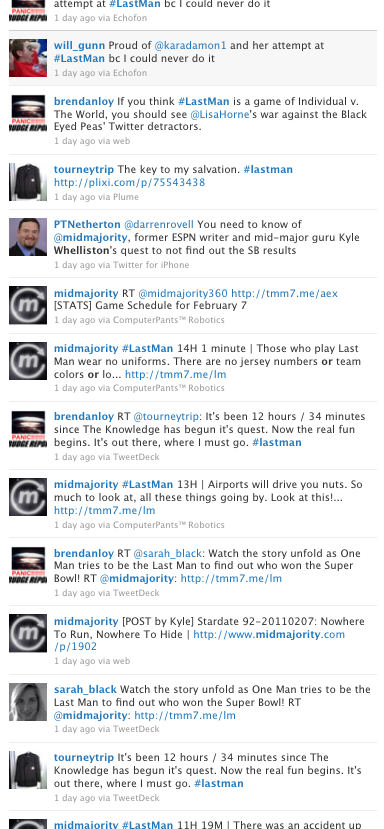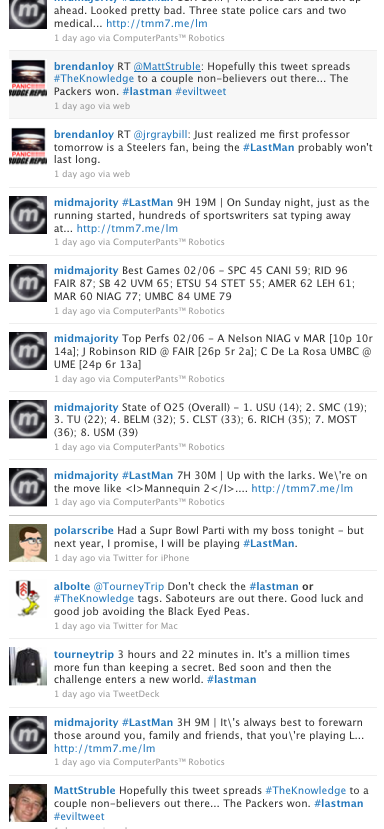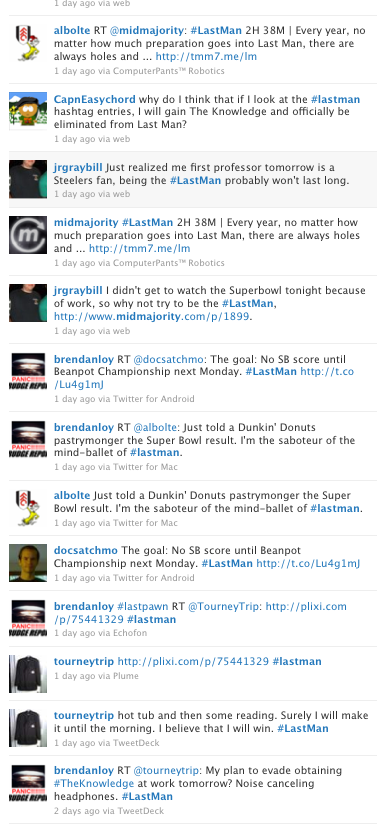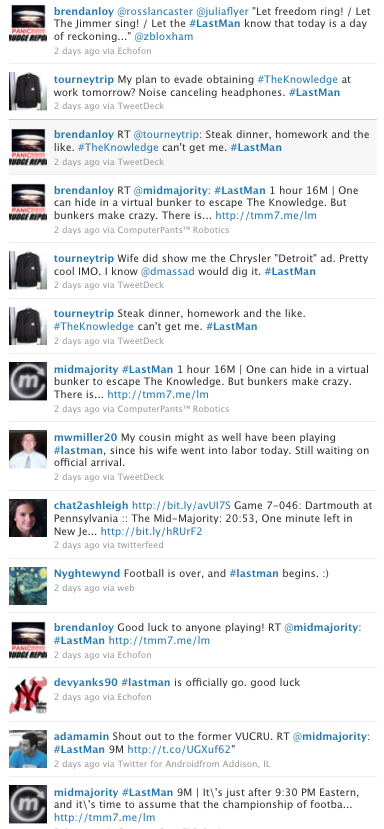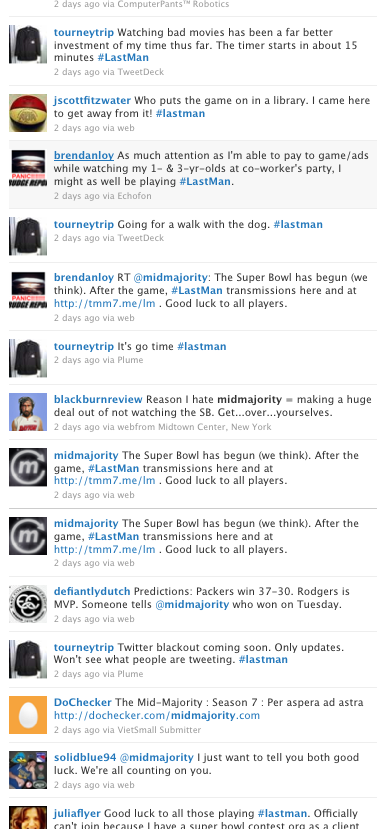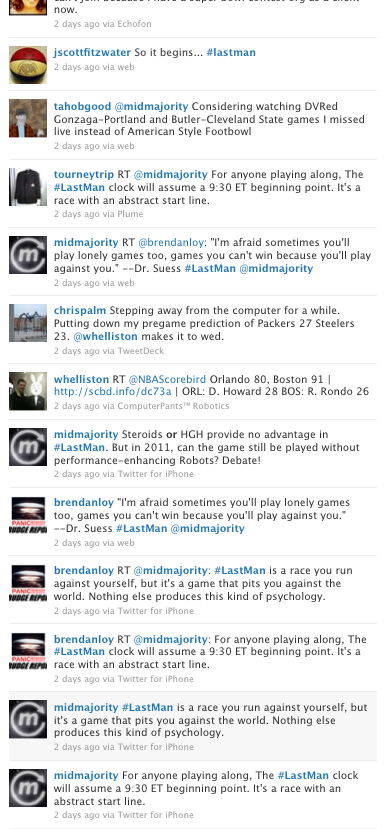 Comments on "#FindTheLastMan"
3 Responses to "#FindTheLastMan"
David K. Says:
February 8th, 2011 at 9:08 pm Mountain Time

Anyone who widely broadcasts their desire to be the last person to know something deserves to be the first person told.

Tweets that mention #FindTheLastMan -- Topsy.com Says:
February 8th, 2011 at 10:50 pm Mountain Time

[…] This post was mentioned on Twitter by Brendan Loy and Brendan Loy, Brendan Loy. Brendan Loy said: Here we go: complete history of #FindTheLastMan hashtag, constantly updating: http://www.brendanloy.com/lrt/2011/02/findthelastman/ #LastMan […]
---
You must be logged in to comment. (Why?)

Please register with The Living Room Times, or log in using your Facebook, Google, OpenID, Twitter, AOL or Yahoo account, or your existing Living Room Times account.