By Brendan Loy
Randy Styles, who became a father Saturday morning, earned a perhaps slightly less momentous (heh) but still notable achievement Sunday night, as he won his second consecutive Living Room Times contest — following up his win in the LRT Bowl Pick 'em Contest with a victory in the LRT Oscar Pool.
Better watch out for Randy in the upcoming NCAA and NIT pools. :)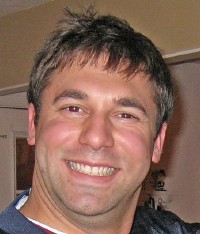 Styles, a resident of South Bend, Indiana, submitted his Oscar picks Friday night at 11:26 PM Eastern Time, apparently just hours before heading to the hospital for his daughter's birth. He and his wife Elizabeth welcomed an 8 pound, 8 ounce baby girl at 9:43 AM Saturday.
On Sunday night, the proud papa finished with 67 out of a possible 80 points in the Oscar Pool, to edge David Kreutz and pool administrator Brendan Loy, who had 66 points each. Amid the sleep deprivation of his first full day of fatherhood, Styles stopped by the LRT liveblog about two-thirds through the show and wrote, "Hope I win like Bowl Pickem. Wife and I just had a baby girl.8 lbs.8 oz. … We are both really happy!"
Styles got just 4 awards out of 24 wrong. His mistakes were: Best Director, worth 9 points (he had David Fincher for The Social Network; Tom Hooper for The King's Speech won); Best Cinematography, worth 2 points (he had True Grit; Inception won); Best Art Direction, worth 1 point (he had The King's Speech; Alice in Wonderland won); and Best Animated Short, worth 1 point (he had The Gruffalo; The Long Thing won).
If not for Styles's misjudgment in the Best Director category, it would have been the most dominant performance in Living Room Times Oscar Pool history, as he got almost all of the "minor" categories right.
Meanwhile, Vicki Lopez and Jeff Vaca, who would have been pool co-champions if "The Social Network" had won Best Picture, dropped all the way to 14th place when "The King's Speech" won instead. It's the third time in seven years that Lopez has been denied victory by a plausible but incorrect Best Picture pick, and at least the fourth time she has been a single award away from winning. (She finished second last year, thanks to mistaken picks in the screenplay categories.)